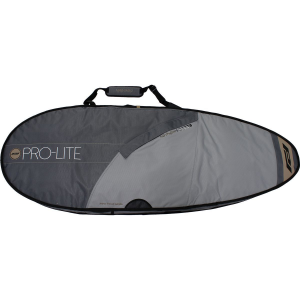 Brand: Pro-Lite
Availability: in-stock
Size(s): 6', 6'10", 6'3", 6'6", 7'2", 7'6", 8',
Price : $204
Buy Now from BackCountry
Pro-Lite Rhino Single/Double Travel Surfboard Bag - Fish
Thanks to the Rhino Single/Double Travel Surfboard bag you don't have to reluctantly hand your board over to the agent at the ticket counter thinking that this may be the last time you see your board in one piece. The Rhino has a rugged exterior and 10mm foam padding to keep your beloved board free from nicks, scratches, dents, cracks, breaks (not the good kind), dings - pretty much any damage that you have nightmares about. And when you're rushing to the airport from the beach because you had to stay in the water for just one more set, you can stow your wetsuit in the designated pocket, safely zip up your board for takeoff, and head to your terminal with the comfortable, padded bag strap slung over your shoulder.