The Beginner Surfboard Guide
If you're new to surfing & looking to buy your first surfboard for yourself or for your family – then you'll find that the following beginners guide will ease the process.
How long should my first surfboard be!?
The first thing you need to figure out is what length board you're looking for. Suitable boards to learn on will range somewhere between 6-9' feet but the vast majority of learners will start on something between 7-8'. The following chart gives you a basic guide into approximate lengths you should consider, although the most ideal length might fluctuate depending on your age, fitness and coordination. If you've passed your prime or perhaps a little unfit, you might want to add a few inches to the general guidelines. The same applies if you're not the sportiest of people. Length is critical in choosing the right board & combined with the "type" of board you choose (see below) will ultimately dictate how much buoyancy you'll have, which is crucial in catching waves and helping you to stand up. Just remember that the worse thing you can do when starting out is to pick a board that's too short, so if in doubt always add a few inches rather than subtract.

What type of surfboard should I choose?
As crucial as the boards length is, the board type is equally important. Beginners should always start out with a mini mal or funboard shape that has a distinctive rounded nose giving the board much needed buoyancy.

*Top tip*: Never buy a board that has a pointy nose!

The most basic form of learner board is called a foamie or soft top and provides first timers an excellent introduction to surfing. Nearly all surf schools use them as they're safe to fall on, relatively durable and cost effective. As the name suggests, the soft exterior (on the deck) is very forgiving when wiping out. Even the fins are more flexible if you happen to land on them. It's a great board to start out on at least for your first surfing experience. Its also the cheapest option available.
The soft top board is for you if:
- you plan to surf just a few times a year
- you want a board for the kids (and family)
- it's just for a bit of fun down the beach once in a while
- you want to spent the least amount of money possible


The very distinctive sot top, as used by most surf schools


Those looking for slightly increased performance should consider a molded "pop out" surfboard. These are a slight step up from the soft tops, offering more responsiveness (and the chance to improve) and are much more resilient in construction.
The Pop Out board is for you if:

- you want the next level up from a soft top
- you want something that will last for years to come and is relatively bullet proof
- you don't want to spend much

The "pop out" by BIC

The modern versions of the pop out surfboard are made from epoxy, resulting in a lighter, tougher construction and are the most popular boards on the market in terms of value for money. NSP is considered the leading manufacturer of this type of board.
The epoxy board is for you if:

- you plan to get into surfing and want to progress
- you want to get in as much as possible, at least in the summer
- you don't mind spending a little more if it means it'll last longer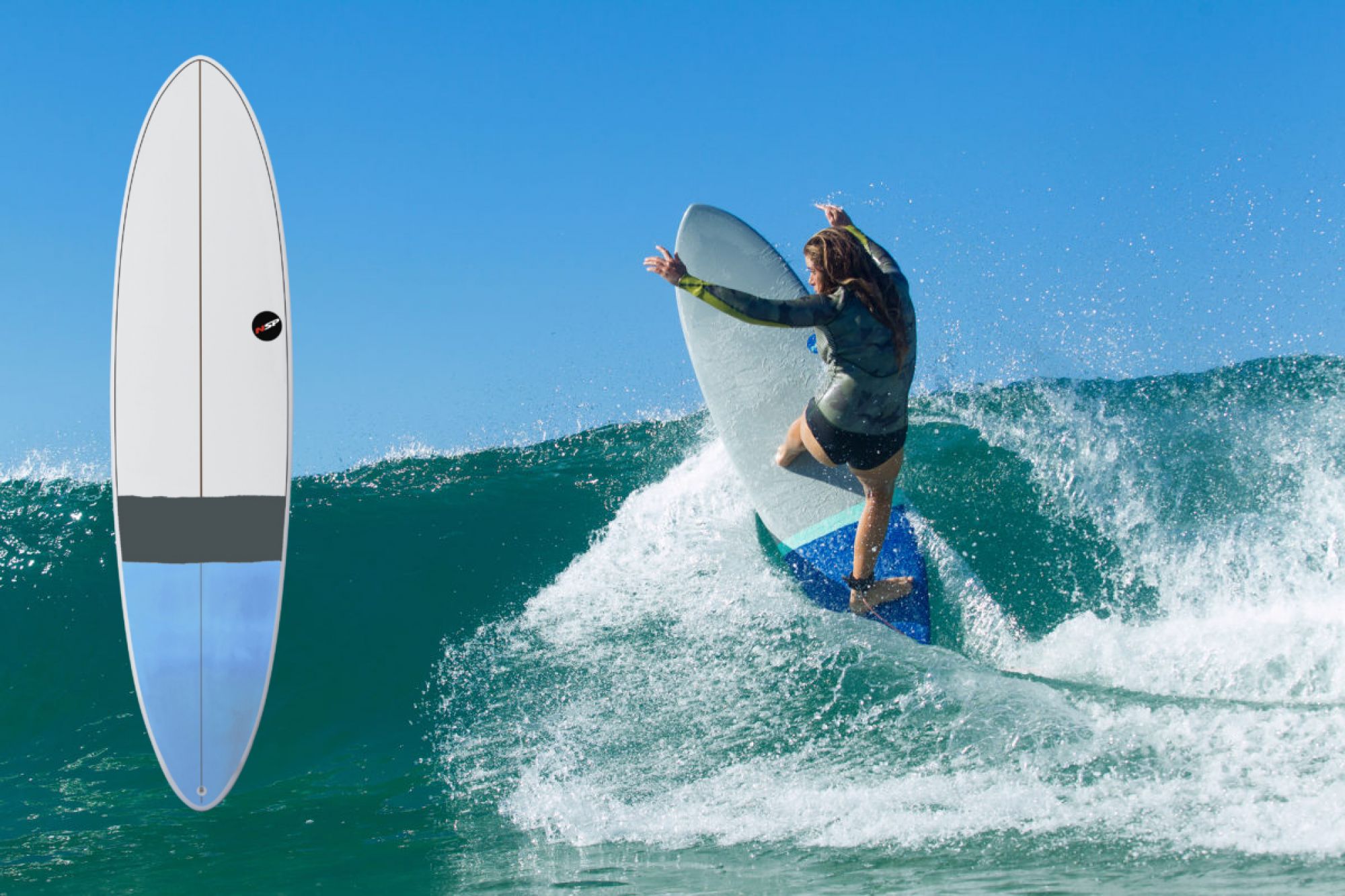 NSP Epoxy

It's also possible to buy a traditional polyurethane (PU) hand shaped board - but these are far more likely to ding (damage) that can be frustrating and costly.

You should consider a PU mini mal (traditional hand shaped board) if:

- you've had a number of lessons and really want to get into surfing
- plan to surf regularly
- it's not for the kids
- don't mind spending more if it means you will progress a little faster


The hand-shaped PU surf board

The highest level of beginner board on the market would have to be a mini mal shape produced by Surftech using their patented TufLite technology.

You should consider a Surftech board if:
- you simply want the best board available
- you want the lightest and toughest board
- don't mind spending more if it means you will progress a little faster


Surftech TufLite technology

How much should I pay?

You'll soon find out that surfboards vary massively in pricing. A used soft top costs as little as $50 / £50 but a brand new Surftech will cost you upwards of $1000 / £700 and will put a real dent in the wallet. That said if you allow $ 125-500 / £100-300 for a used board then you should have no problems finding one on the site.
Should I buy new or used?
If you've never surfed before then absolutely consider a used board.
Used beginner boards hold their value, so if you decide that surfing is not for you (after a few sessions) then it shouldn't be too hard to re-sell and get your money back.
Buy or sell your used surfboard on Second Hand Boards