The Beginner Surfboard Guide
If you're new to surfing & looking to buy your first surfboard for yourself or for your family – then you'll find that the following beginners guide will ease the process.
What type of surfboard should I choose?
Suitable boards to learn on will usually range somewhere between 6'-9' feet in length (for adults) & 4'-8' (for kids) but the vast majority of learners will start on something between 7'-8'. The following chart gives you a basic guide into approximate lengths you should consider, although the most ideal length might fluctuate depending on your age, fitness and coordination. If you've passed your prime or perhaps a little unfit, you might want to add a few inches to the general guidelines. The same applies if you're not the sportiest of people. The overall volume is critical in choosing the right board & combined with the "type" of board you choose (see below) will ultimately dictate how much buoyancy you'll have, which is crucial in catching waves and helping you to stand up.


It's important to know that the buoyancy of the board is often referred to in "litres". As a general rule, a beginner should be riding the equivalent of 100% of their body weight in volume (in "Kilograms"). I.e. A beginner weighing 80 kg should be riding a surfboard around 80 litres in volume. Alternatively, an experienced surfer can ride a surfboard that's 35% - 40% of their body weight in volume. If you're unsure of your KG weight, then multiply by by 2.2 for lbs/pounds!

Just remember that the worse thing you can do when starting out is to pick a board that's too small (in terms of buoyancy), so if in doubt, always add a few inches rather than subtract.


As crucial as the boards length is, the board type is equally important. Beginners should always start out with a mini mal or funboard shape that has a distinctive rounded nose giving the board much needed buoyancy due to the added volume.

*Top tip*: Never buy a board that has a pointy nose!

1. The "Soft Top"

The most basic form of learner board is called a foamie or soft top and provides first timers an excellent introduction to surfing. Nearly all surf schools use them as they're safe to fall on (they're soft), relatively durable and cost effective. As the name suggests, the soft exterior (on the deck) is very forgiving when wiping out. Even the fins are more flexible if you happen to land on them. It's a great board to start out on at least for your first surfing experience. At around $200 per board, these types of surfboards are also the cheapest on the market.



The very distinctive soft top, as used by most surf schools

The soft top board is for you if:
- you plan to surf just a few times a year
- you want a board for the kids (and family)
- it's just for a bit of fun down the beach once in a while
- you want to spent the least amount of money possible (typically around $200)

Where to buy a SOFT TOP surf board?

Of course the first place to look is here on our website! With that said, its pretty hard to find a good condition "used" soft top anywhere online - including here on Second Hand Boards. People tend to keep hold of them until the board is ready for the scrap heap. So if you're looking to buy new, then we recommend the following 3 surfboards that are not only the cheapest on the market, they're also made by reputable brands you can trust.


We've selected 3 surfboards to suit your needs including a 4'4" (ideal all kids up to 60 lbs), a 5'5" (kids 60-100 lbs) as well as an 8" board (adults/kids 100-200 lbs).

As an Amazon Associate, Second Hand Boards earns from qualifying purchases. That basically means that if you buy something through one of the below links, you wont pay a penny more but we'll get a small commission, which helps keep the lights on. Thanks!

Wavestorm 8' Surfboard

Perfect for just about anyone looking to learn to surf (any size, any ability!)
Wavestorm (amazon link) is one of the most popular "soft" surfboard brands in the United States. At 8 feet in length, it packs incredible float (85 litres) & is suitable for just about any beginner surfer who's ready to hit the surf but we typically recommend any adults or kids who weigh 100-200 lbs.




Remember that beginner boards typically range from 7'0" to 8'0" and this will be fine for 95% of people looking to give surfing a go. This is the size range that most surf schools use when they're teaching beginners. Only those that are heavier than 200 lbs should opt for a "longboard" instead (which are over 9' in length)




The Wavestorm beginner surfboard (Amazon link) is both light and soft and therefore very forgiving when you wipe out. It's also one of the cheapest boards on the market which is surprising given its pretty resilient for a soft board. The board is manufactured by Wavestorm who supply their boards to CostCo which gives it an extra stamp of approval, especially in terms of quality. It also means you can feel confident you'll have a good warranty in place should you have any issues with your board.

BUY NOW (amazon link)

Suited for beginners, it can also be used for more experienced surfers as a fun-board for summer waves. An added bonus is that it comes with a leash, traction pad and fins, meaning it's ready to go - as soon as you buy it!



Specs

* The cheapest "new" board on the market
* Soft Foam Construction Classic Surfboard
* Strong EPS core with 3 stringer system
* Includes removable bolt thru fins
* Ankle leash & traction "grip" pad
* Dimensions 8' x 22 1/2" x 3 1/4"
* Weight 11.5 lbs
* Volume 85 liters
* HDPE Slick Bottom Skin
* Suggested max weight capacity: 200 lbs

Quality

Wavestorm Surfboards feature a strong EPS core with 3 marine-ply stringers and a resilient WBS-IXL (Water Barrier Skin) soft cross-link top graphic deck skin
with textured grip. The bottom material is a HDPE slick bottom that provides extra stiffness to maintain the boards shape.


The 5-5 by Kona Surf Co
Perfect for "kids" (up to 150 lbs)

The 5-5 (amazon link) is a great option for kids to get into the ocean without breaking the bank. Its not suited for beginner adults as it's too small (its only 5'5" and 45 litres). But for it's size it has plenty of buoyancy for kids to paddle and catch waves.




Its also a lot easier to carry down the beach compared to the big 8' learner boards & it'll also fit in your car no problem! It's worth noting that for the Wavestorm you might need a roof rack and straps unless you have a truck or a pretty large vehicle.

The 5-5 gets the nod over the Wavestorm if your kids are under 100 lbs - and you don't want to continuously haul such a big board to the beach each time you go.



3 fins and a leash included. Also comes in various colors.

With a different shape compared to the "mini mal / fundboard" (similar to the Wavestorm) which have rounded noses and a squash tail, the 5-5 outline borrows a few characteristics from the Fish surfboard (slightly more pointy nose and a swallow tail) & offers better performance and more potential to improve.

(note: Kona Surf Co claim it's suitable for anyone up to 190 lbs, but in reality, we'd suggest kids up to 100 lbs would be a more ideal weight.




Specs

* Fish Shape
* 2 wooden stringers for strength
* Dimensions 5' 5" x 20 1/2" x 2 1/2"
* 45 litres
* Kids up to 100 lbs
* Includes 3 removable fins & a leash
* PE Deck and the core having 2 layers of EPO and XPE
* Bottom is heated Lamination HDPE Slick

Includes a 6ft leash and a set of 3 two-tab surfboard fins with rubber safety edges. The removable fins make the surfboard easy for you to travel with. Multiple color choices.

BUY NOW (amazon link)



There are 1-2 other boards on the market (around $200 & around 6' in length) – but they are typically of poor quality. Be sure to check out the reviews when buying them. This board is made by Kona Surf Co, a very reputable shop located in New Jersey. They also have first class reviews: Kona Surf Co
The 5-5 (amazon link) is built with a EPS core with 2 wooden stringers for added durability. The surfboard deck is covered with a soft IXPE foam and the bottom is slick HDPE with a scratch resistant checker pattern. Beginners can know that their investment in this surfboard will last because of the addition of two wooden stringers that provide extra flex and durability for their surfboard.


The 4-4 by KONA SURF CO

Perfect for kids (up to 60 lbs)

The 4-4 (amazon link) is 1 foot and 1 inch shorter than the "5-5". It's very similar to the 5-5 but with less buoyancy it's more ideal for even smaller kids (under 100 lbs) who are looking to get into surfing and have some fun.




With removable fins, these surfboards also double as a boogie board which is always handy for kids that might tend to get frustrated or spooked when trying to stand up. As a parent, you certainly have the option of starting the kids off on the boogie board and then progressing them to the soft top surfboard, simply by adding the fins at a later stage, after they feel comfortable in the ocean.

Specs

* Suitable for kids up to 60 lbs
* Hybrid shape
* Dimensions 4' 4" x 19 1/2" x 2"
* Doubles as a boogie board
* Easily fits into cars
* 2 wooden stringers for strength
* Volume 27 litres
* Includes 3 removable fins & a leash
* Soft IXPE foam
* Bottom is slick HDPE with a scratch resistant checker pattern



The 4-4 (amazon link) is built with a EPS core with 2 wooden stringers for added durability. The deck is covered with a soft IXPE foam and the bottom is slick HDPE with a scratch resistant checker pattern. Beginners can know that their investment in this surfboard will last because of the addition of two wooden stringers that provide extra flex and durability for their surfboard.

BUY NOW (amazon link)

Includes 1 free coiled leash (used for either the surfboard or boogie board) and a free set of 3 two-tab surfboard fins with rubber safety edges. The removable fins make the surfboard easy for you to travel with. Multiple colors to choose from. Manufactured by a very reputable company "Kona Surf Co" in New Jersey.


2. The "Pop Out"

Those looking for slightly increased performance (compared to a "soft top") should consider a molded "pop out" surfboard. These are a slight step up from the soft tops, offering more responsiveness (and the chance to improve) and are much more resilient in construction, meaning they'll last for years if you look after them. They also hold excellent re-sale value if you ever choose to sell them. You'll always get at least half your money back and you can list them on our site free of charge.



The "pop out" by BIC

The Pop Out board is for you if:

- you want the next level up from a soft top
- you want something that will last for years and is relatively bullet proof
- you still don't want to spend much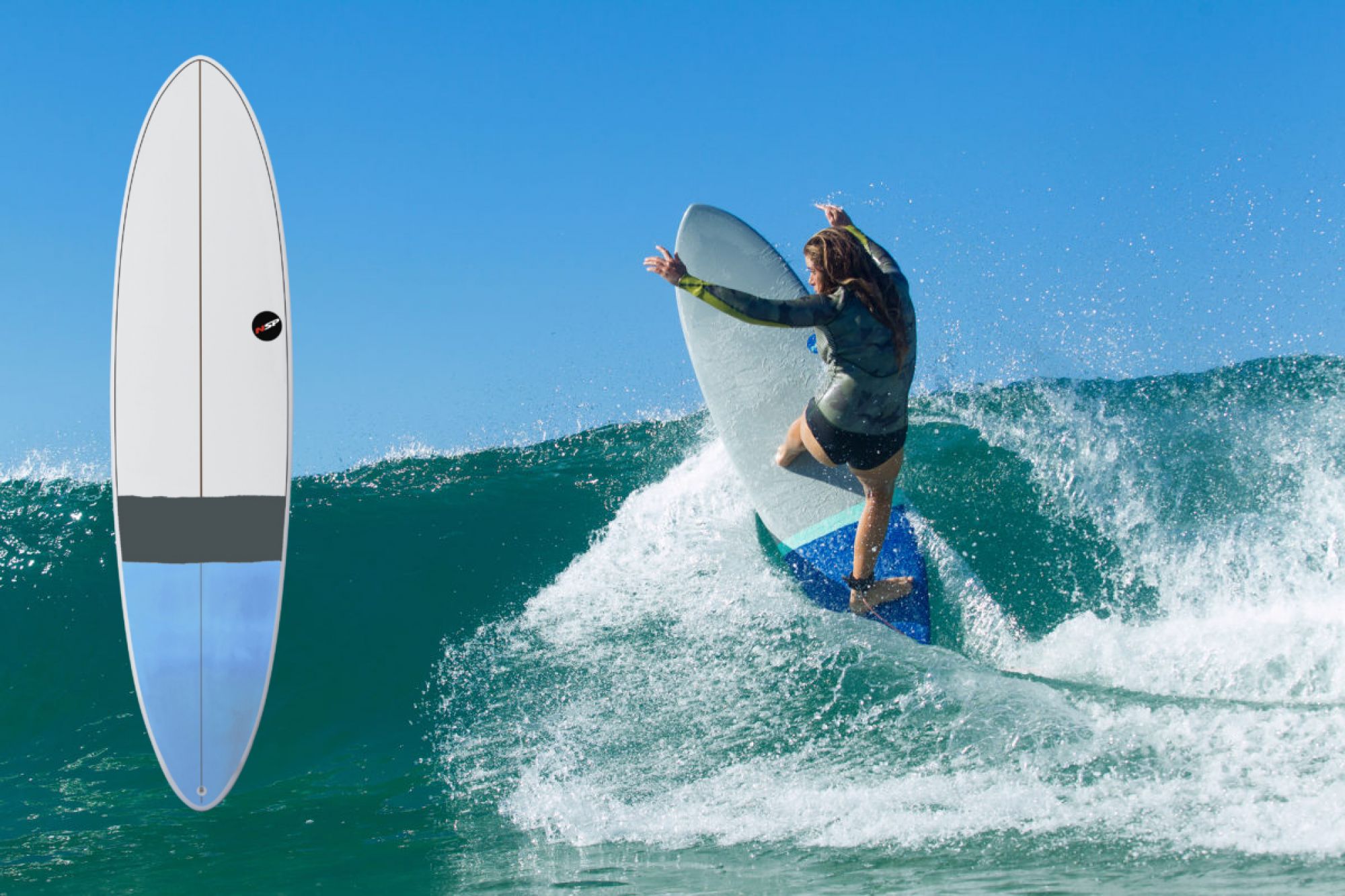 NSP Epoxy

The modern versions of the pop out surfboard are usually made from epoxy resin, resulting in a lighter, tougher construction and are the most popular boards on the market in terms of value for money. NSP is considered the leading manufacturer of this type of board. They have their own "HDT" construction which stands for High-Definition-Technology, a core molding technology that allows for highly accurate shapes with "dynamic flex" characteristics. HDT offers great performance at attractive prices.

The epoxy board is for you if:
- you plan to get into surfing and want to progress
- you want to get in as much as possible, at least in the summer
- you don't mind spending a little more if it means it'll last longer


3. Hand shaped surfboard "Polyurethane" (PU / PE)

The next step up from the "molded" boards is to have a hand shaped (or machine shaped) surfboard. As a beginner, you'll still want to have a mini malibu shape (with a round nose).

When searching online it's worth noting that "PU" refers to the hand shaped Polyurethane blank that's combined with Polyester resin. "PE" also refers to a Polyurethane blank but with an Epoxy resin.


It's certainly possible to buy a traditional "hand shaped" Polyurethane board - but these are a step up in price as they're hand shaped rather than molded like the boards previously mentioned (Soft Top and Molded surfboards)

Top tip: PU boards tend to "ding" easier (get damaged), so as a beginner, always opt for EPOXY resin

You should consider a PU surfboard (with a mini mal shape) if:
- you've had a number of lessons and really want to get into surfing
- plan to surf regularly
- don't mind spending more if it means you will progress a little faster




"Pick-up Stick" Surfboard, by Lib Tech (6'6", 7'0", 7'6", 8')
A great "hand shaped" option (if you can afford the upgrade) is the Pick-up Stick. Its also a hand-shaped board (Polyurethane blank) that they combine with their own "MBC" construction making ultra lightweight and almost indestructible surfboards. They also come with a 1 year guarantee (that's unheard of in the surfing world!).

This "mid size" shape works in all conditions and catches waves like nobody's business. Ideal for a beginner looking for something that's easy to progress on, a weekend warrior looking for maximum wave time, or an OG who's looking to walk the plank and hang 5 on a small wave day, this board is tough to beat. And thanks to Lib Tech s legendary construction it's also virtually indestructible.

BUY NOW (via Evo)
Specs

* Multiple size options (6'6", 7'0", 7'6", 8')
* FOC II Fin Box System – A stronger and lighter box that's two tab compatible with 1/2" fin adjustability for precise tuning of your boards surf characteristics.
* Materials - Carbon Fiber, Composite, Polyester, Resin
* Bottom Shape: Concave, Double Concave, Flat
* Warranty: 1 Year


4. Hand shaped surfboard "EPS"

The highest level of beginner board on the market would have to be the "EPS" construction and is a popular option for many brands these days and for a number of good reasons. One of the most notable differences between hand shaped "EPS" and "PU" boards is the weight, with EPS being noticeably lighter in weight.


Lighter boards are easier to turn (and carry) and are also often preferred by advanced surfers. However, for beginners that typically have high volume boards, the fact that it's so light weight is a real bonus. Carrying an 8' board down the beach and managing it in the white water can be exhausting, especially the bigger the board is. EPS boards also have a more buoyant feel to them, as if they sit a little more "on top" of the water. This can be beneficial for building speed faster (great for beginners) - where the board makes it easier to glide through flat sections. The combination of these factors has made them a great option for small wave boards.
Unlike PU, EPS can be recycled. You will find this foam in the core of all eco-friendly surfboard constructions. Often combined with bio resin and fibreglass alternatives such as flax cloth.
You should consider an EPS board if:
- you simply want the best board available
- you want the lightest and toughest board
- don't mind spending more if it means you will progress a little faster

How much should I pay for my beginner surfboard?

The short answer is usually between $200 - $800.

A "used" soft top surfboard costs as little as $100, but are very hard to find. So buying new is usually the cheapest way. Expect to pay somewhere around $200. The next step up is a used "molded" surfboard which you can often find on our website for around $200-$400. A new one will usually cost around $400-500. The premium hand shaped boards cost anything from $400-$1000 new and around $300-700 used. Just about any surf board (that has a rounded nose) will hold their value well and are easily sold second hand.

Should I buy new or used?
If you've never surfed before then absolutely consider a used board. Used beginner boards hold their value, so if you decide that surfing is not for you (after a few sessions) then it shouldn't be too hard to re-sell and get your money back. Selling on our site is always 100% free for all our users!

Either way it's worth checking out our "used" boards here: Used Beginner Surfboard (be sure to select the "Funboard/Minimal" option on the left hand side).
Happy surfing!